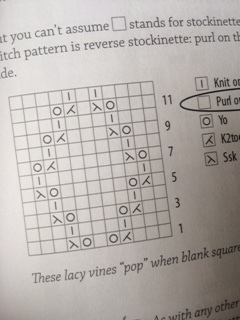 Getting Comfortable Knitting from a Chart
Learning to use the shortcut of a chart to track a knitting pattern leads to fewer errors and the recognition of any mistakes in time to correct before the only option is to rip out the knitting completely. There are just a few key concepts to understand in order to make sense of those symbols and instructions. This class will have you confidently knitting from charts (and maybe even making your own charts) with ease.
Please be sure you are comfortable in your skills to make a knit stitch, make a purl stitch, make decreases and increases, cast-on and bind-off before you register for this class. These basic skills will not be taught.
The text for this class is Charts Made Simple: understanding knitting charts visually by JC Briar. Copies of the book will be available from the instructor at class at 10% discount.
One two hour session, $50
Pre-registration required or Contact Us using link below. See Terms and Conditions before registering. Maximum 15 students.
This class will be held at The Lee House, 7315 39th Ave, S, Seattle WA 98118
We will enjoy a social hour prior to class. Feel free to bring your dinner or snacks to share. There is a kitchen with refrigerator, stovetop, and microwave at our facility
Please no alcoholic beverages.
Class begins at 7pm.